Pentair Intellicenter
Details
ULTIMATE POOL MANAGEMENT STARTS HERE
IntelliCenter Pool Control System is the most versatile Pentair automation system, delivering better than ever technology you can trust. Easily expandable, this system is now powered by AWS® cloud technology for improved stability, connectivity, scheduling and reliable, centralized control for multiple pool devices, from water features to lights to pumps. This system makes pool life as easy as it should be.
Easy to program, with step-by-step, on screen instructions
Color touchscreen interface displays intuitive instructions in clear text and rich colors
Convenient control from inside and outside the home via outdoor and indoor control panels and wireless remotes
Remote control from anywhere: Android® and iOS® device, and web browsers on Mac® and PC computers
Interfaces with iOS®, Android® mobile devices, and Apple Watch®, enabling owners to check their pool status remotely
Pentair Easytouch
Details
POOL AUTOMATION THAT IS SIMPLE AND AFFORDABLE
The EasyTouch Control System eliminates the inconvenience of trips to your pool equipment pad, memorizing operating sequences, opening and closing valves and resetting time clocks and thermostats. With push-button operation and clear, intuitive instructions and displays, your EasyTouch system includes all circuitry and fully programmable controls in a single Load Center installed near your pool or spa equipment. This avoids expensive wiring and installation costs to make an EasyTouch system affordable for any budget.
Available in Four-Function or Eight-Function Systems
Supports variable speed or variable flow pumps, pool lighting, landscape lighting, waterfalls, fountains, heaters and more
Include 150-amp breaker base with space for 10 1-in. breakers
Pairs with ScreenLogic2® Interface to allow control from mobile digital devices, computers and select smart speaker devices
Built-in diagnostics for troubleshooting and repair purposes
UL and cUL approved
Pentair Easytouch PL4/PSL4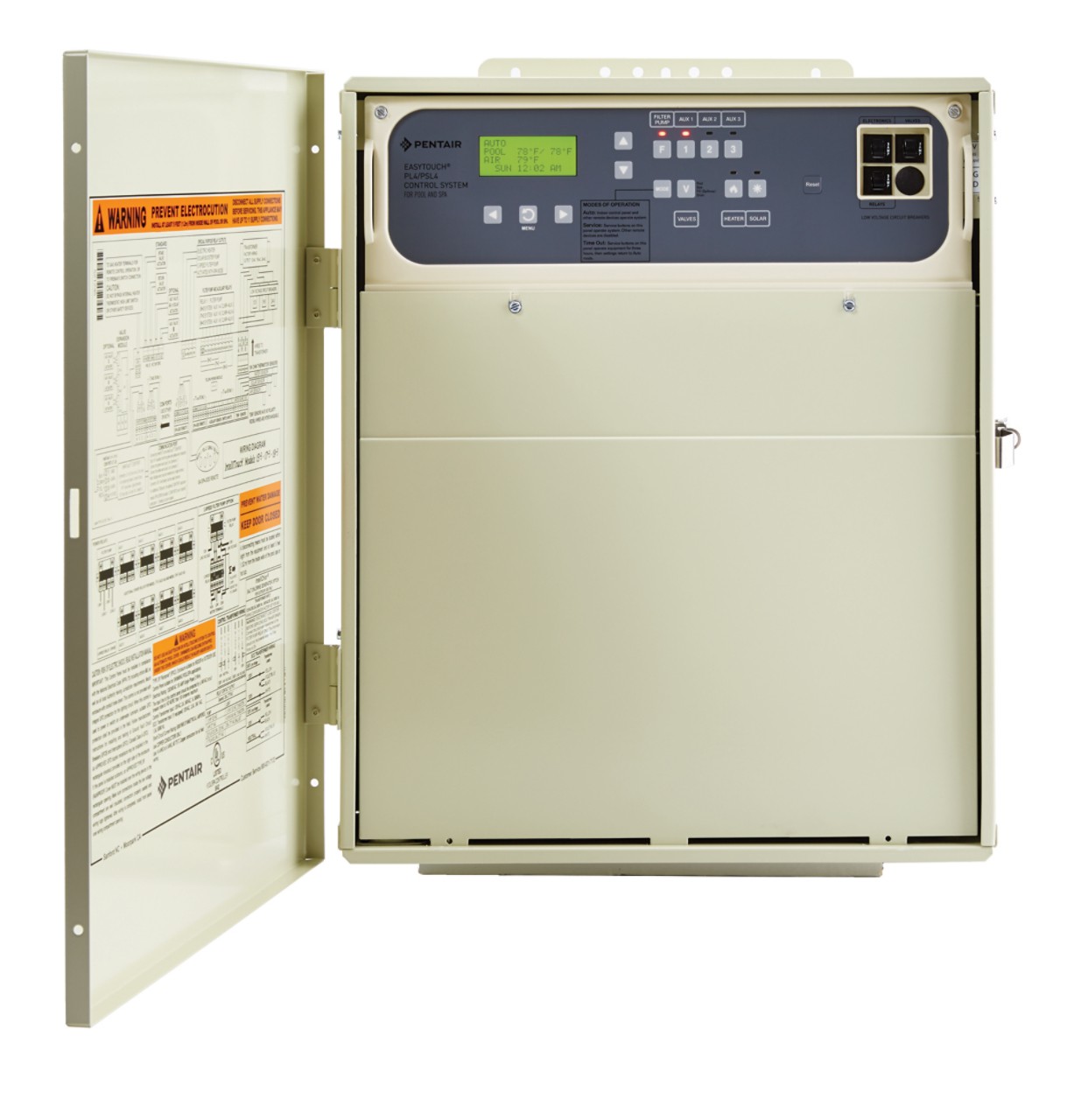 Details
ECONOMIC AUTOMATION FOR STANDARD POOLS
EasyTouch PL4 and PSL4 control systems provide economical yet sophisticated control over filtration, pumps, lighting, chemical management and more. The EasyTouch PL4 system is designed for a single body of water, while the EasyTouch PSL4 system is designed to control a pool and spa combination. These systems work with the ScreenLogic2® Interface for full control via computer or mobile devices.
Controls filter and pump functions, plus 3 additional pieces of equipment, allowing you control of up to 4 operating schedules or programs.
Supports 4 operating speeds of 1 IntelliFlo® Variable Speed Pump, 3 colored lights and 2 feature circuits
Push-button operation and clear, intuitive instructions and displays make it a cinch to use
All circuitry and fully programmable controls are centralized in a power center installed at the pool equipment pad
Available options include EasyTouch PL4/PSL4 wireless remote, indoor control panel, iS4 spa-side remote and QuickTouch® II Wireless Remote