Pentair Kreepy Krauly
Details
GREAT CLEANING PERFORMANCE FROM THE WATER LINE TO POOL BOTTOM
Trusted by over 3 million pool owners for decades, Kreepy Krauly cleaner's powerful suction relentlessly removes dirt and debris automatically. And with only one operational moving part, you can count on years of dependable service at an exceptionally low cost of operation. It's our tireless, reliable performer… year after year.
Rugged construction and ultra reliable service
Dive float directional system helps guide cleaner throughout entire pool from the waterline to the pool bottom for great cleaning coverage
Automatic valve automatically regulates waterflow to set the ideal travel speed for more thorough cleaning
Roller strap maneuvers cleaner around steps and ladders for uninhibited cleaning
Cleaner wings help channel leaves, dirt and debris directly into filtration system
Original "one moving part" design for years of dependable service
Pentair Rebel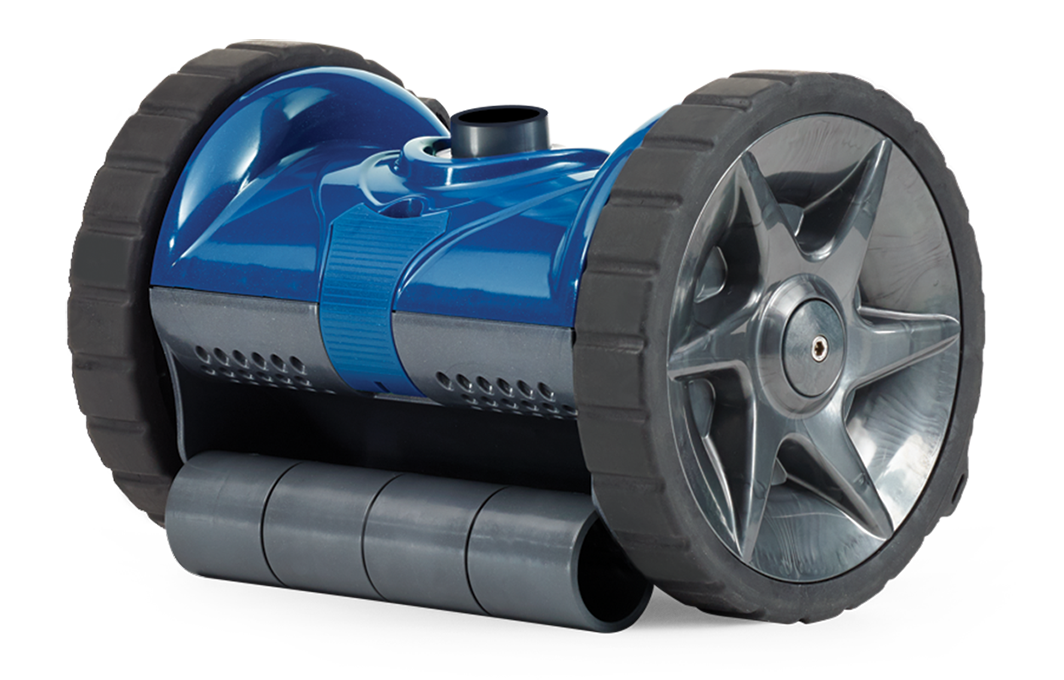 Details
THIS REBEL HAS A CAUSE: CLEANING DIRT AND DEBRIS OTHERS MISS
Pentair Rebel cleaner packs amazing performance into a compact, easy to-use package. Its preprogrammed steering and two-wheel design allows the Rebel cleaner to access hard to-reach corners where debris often hides. Plus, the superior engineering of its turbine and roller skirt assures thorough, uninterrupted cleaning that other cleaners simply cannot match. The Rebel cleaner's extra-efficient hydraulic design makes it ideal for use with variable-speed pumps at low speed. Installation is a snap—just set it and forget it.
Programmed Cleaning Cycle assures complete, thorough pool cleaning coverage
Sure Flow Turbine design provides clear passage for dirt and debris, avoiding the clogging that is common with other 2-wheel cleaners
Dual-Action Roller Skirt allows Rebel to maneuver up and over obstacles for uninterrupted cleaning
Advanced Hydraulic Technology makes it ideal for use with variable speed and two-speed pumps at lower speeds
Superior cleaning performance in all pool types—gunite, vinyl, fiberglass and tile pools
Easy to install and maintain
Pentair Racer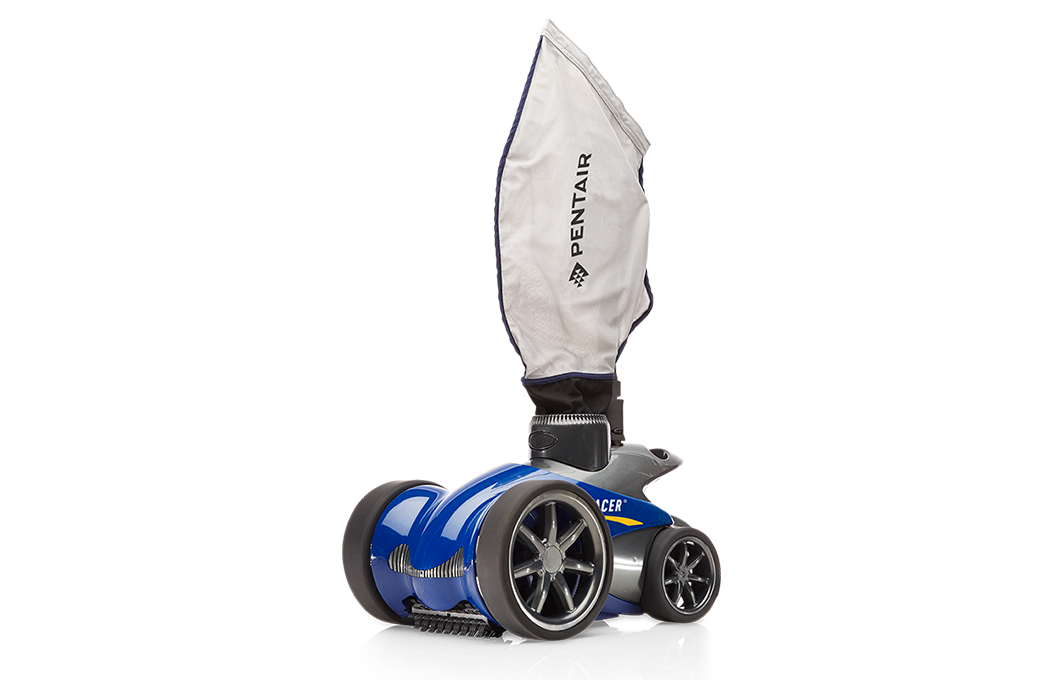 Details
MORE CLEANING POWER THAN OTHER PRESSURE-SIDE CLEANERS
Pentair Racer Pressure-Side Inground Pool Cleaner has nearly 1/3 more cleaning power and 40% larger intake than other pressure-side cleaners. It is quick and simple to use— just attach the dedicated pressure line and it goes to work. It also has an adjustable flow gauge to regulate the Racer cleaner's speed for even greater control. The NightCruize® LED Lights offer pool illumination for after-dark clean up. Racer has four venturis, a built-in rotating brush and the industry's largest vacuum tube — 40% larger intake than other pressure-side cleaners for more powerful cleaning.
Nearly 1/3 more cleaning power and 40% larger intake than other pressure-side cleaners—leaves no debris behind
Front rotating brush scrubs and scours for a deep and detailed clean
Wide tires for steady traction
Cleans continuously in forwardand reverse modes for complete uninterrupted coverage
Ultra-bright LED lights illuminate and enhance nighttime cleaning
Quick and easy to use and maintain —innovative design makes servicing easy
Pentair 920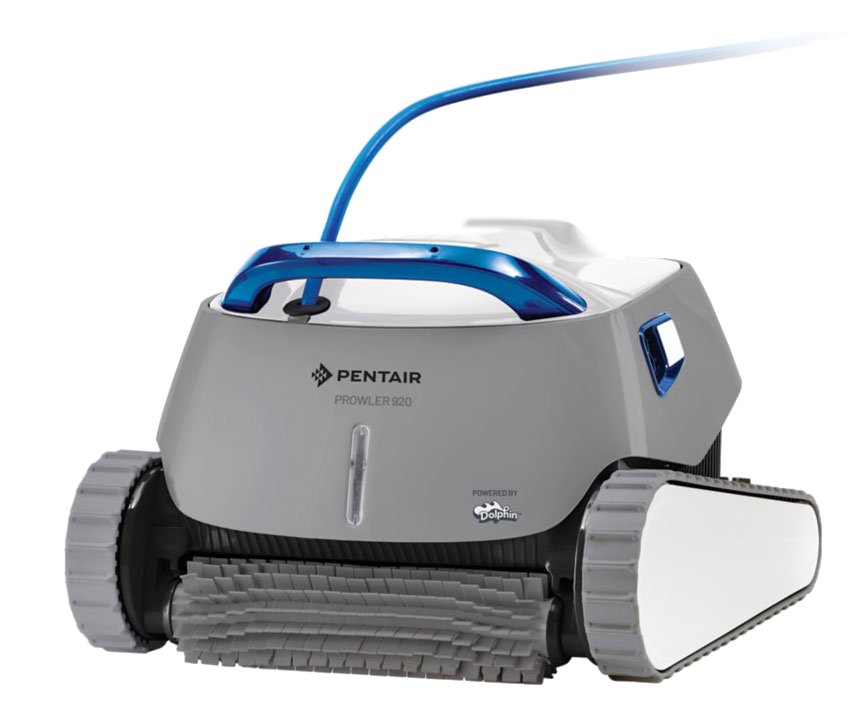 Details
INGROUND ROBOTIC POOL CLEANER WITH HIGH-SPEED SCRUBBING
The Pentair Prowler 920 Robotic Pool Cleaner offers a superior level of cleaning, scrubbing and vacuuming all the way to the tile line. With two brushes, including one active brush that spins at two times the speed of the tracks, a single LED light and the ability to customize the filtration level, just plug in the Prowler 920 and watch it go to work.
All-surface deep cleaning with a powerful, high-speed scrubbing brush
Fast and easy debris removal with a top access filtration basket
Select from a large or fine debris filtration cartridges
Programmable daily cleaning schedules with a built-in weekly timer
Pentair 930W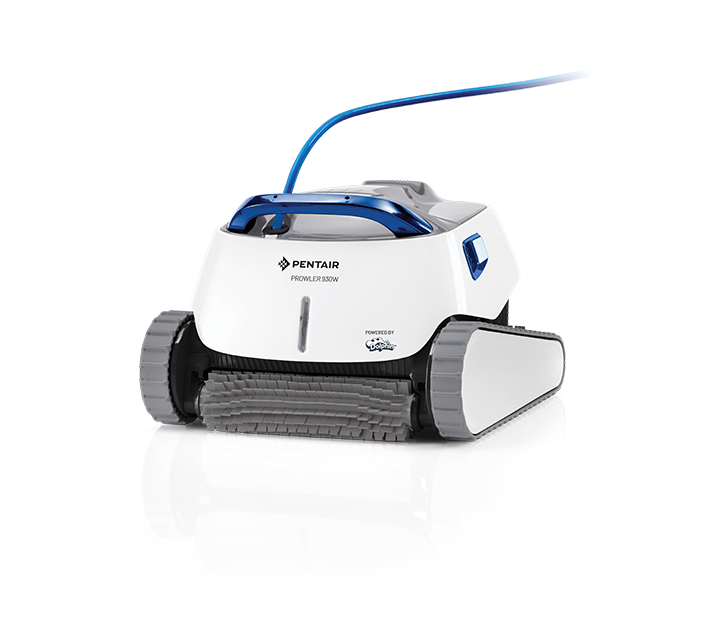 Details
OPEN THE APP. CLEAN THE POOL. FEEL THE FREEDOM.
The Prowler 930W Robotic Cleaner has all the easy, drop-in-and-go intelligence of all the Prowler family. But with the 930W's WiFi connectivity, all you need is the Pentair Home app to make pool cleaning truly hands-off and effortless –even by robot standards. Whether you need time to get ready for the kids' pool party or simply want to touch up a tough spot before bed so your morning dip is glistening.
WiFi control via the Pentair Home App for easy connectivity and smart-phone enablement.
Easy access to top filtration basket that captures minuscule and large debris.
A robust caddy for you to easily transport your pool cleaner from point A to point B.
Customizable cleaning schedule so you're never overdue for a cleaning.
Manual targeting of trouble spots for a truly pristine pool.
Delayed start app feature allows you to clean now or clean later, so late-night swimmers won't be bothered.
Pentair 910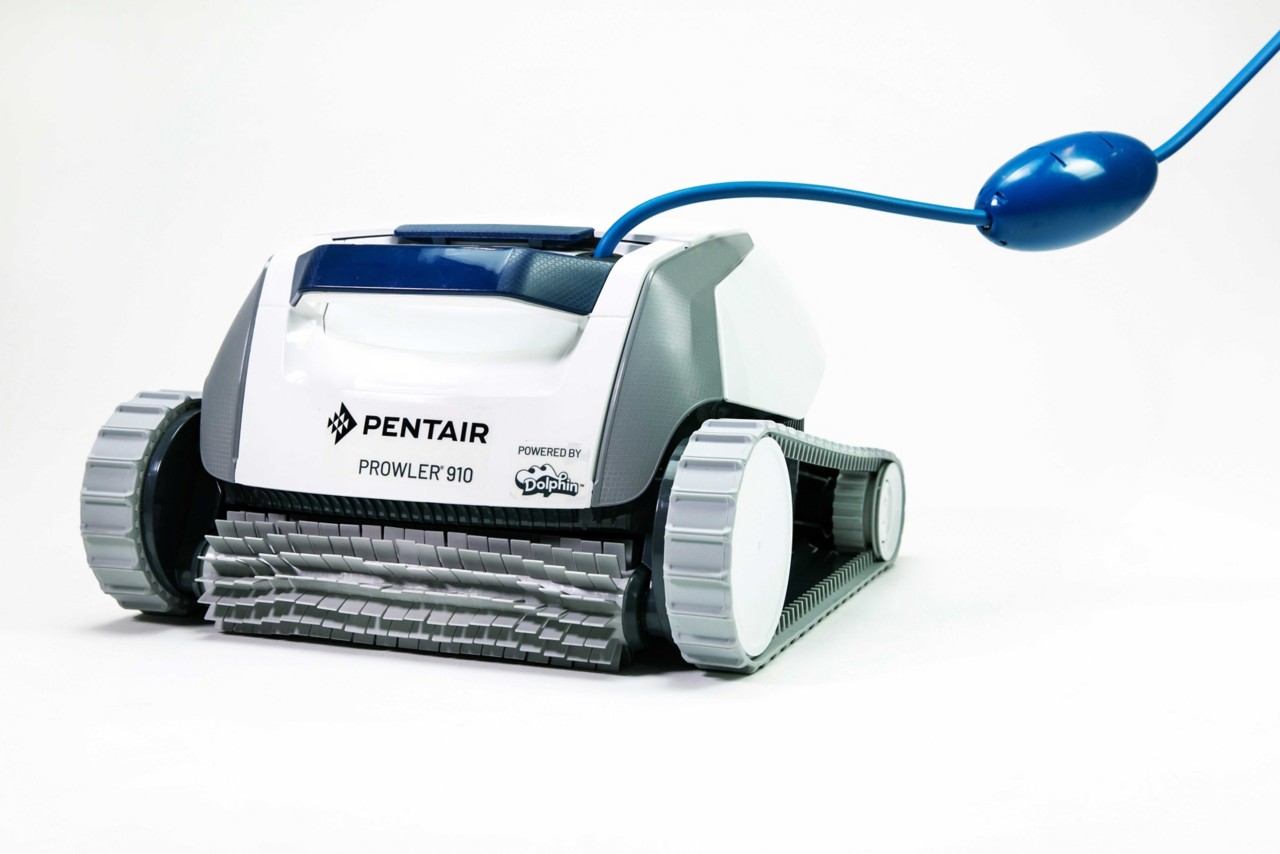 Details
DEEP CLEANING ROBOTIC POOL CLEANER FOR ABOVEGROUND POOLS
Just plug it in and watch as Prowler 910 makes fast work of dirt. Its deep scrubbing and powerful vacuuming action effortlessly captures large and fine debris, deposting it into a self contained, fine-mesh basket.
Powerful, high-speed scrubbing brush provides ultimate cleaning power
Fast and easy debris removal with a top access filtration basket
Durable 40-ft power cord