Pentair Magic Deck Jet
INFORMATION
MAGIC WATER FEATURE FOR EVERY POOL
Deck Jet water effects can be cast into concrete decks and gunite pool walls, mounted in the sidewall of aboveground and vinyl-lined pools, or blended into surrounding landscapes.
MagicStream Deck Jet II creates a graceful arc of water that enters the pool with a gentle splash. The stream seems to appear magically from the pool deck since the jet installs flush and out of sight.
Deck Jet
Deck Jet includes five interchangeable water effect eyeballs that are easy to remove and simple to change. Also Includes construction shield
Streams reach to eight feet, and direction can be easily adjusted
Low water pressure requirement for minimum impact on pump performance
MagicStream Deck Jet II
Height is adjustable to a maximum of six feet. Water direction is adjustable up to 360 degrees.
Easy-to adjust nozzles enable your creativity: concentrate all streams into a single entry point, overlap streams of different heights, or create a symmetrical, multi-stream archway…and more
Quality design assures low water flow requirements and eliminates any concerns about standing water or unwanted debris collection
Attractive installation with no unsightly or unsafe edges or screws
Pentair Magic Fire & Water Bowl
INFORMATION
FIRE UP BACKYARDS WITH MAGICFLAME FIRE AND WATER BOWL
Dazzle a backyard oasis with the flickering of flames or relax to the soothing sounds of falling water with MagicFlame. With five finish options to match most poolside decors, MagicFlame is the perfect pool accessory to make backyards a step away from paradise. Made with durable glass fiber reinforced concrete, MagicFlame can add warmth to pool ambiances and activate the swimming senses for years to come.
5 finishes to match most poolscape décor
Glass fiber reinforced concrete bowls for ultimate longevity; complete with weatherproof and anti-corrosion enclosure
Electronic ignition calls for easy operation with the flip of a switch or push of a button
Simple installation with only two wires to hook up to a voltage relay or a transformer, sold separately
Gas-fueled fire appliance creates the natural ambiance of a flame without smoke or byproducts, enabling users to safely enjoy the fire
Pair with a

 

Pentair Automation System

 

to light up backyards from anywhere, anytime
Pentair ColorVision LED Bubbler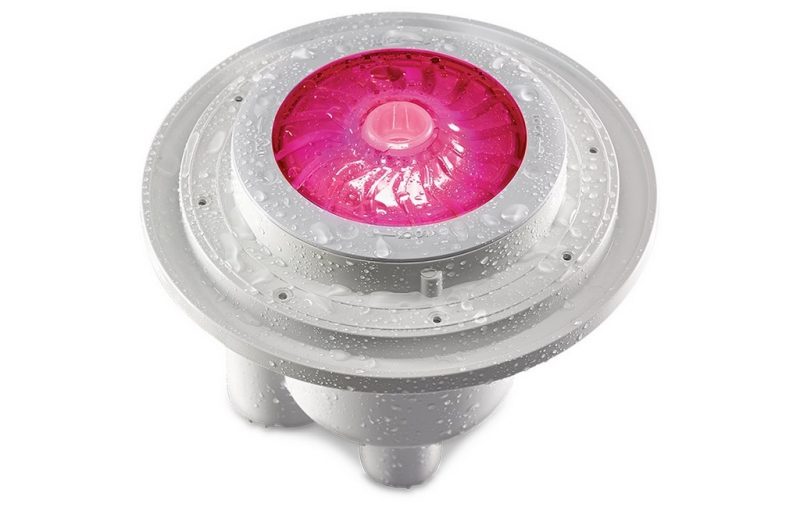 INFORMATION
MAKES POOLS COME ALIVE WITH COLORFUL, MOVING WATER
The ColorVision Bubbler is a combination of the ColorVision Niche and Pentair GloBrite LED light to create vivid fountain-like water movement. It is the perfect way to showcase and enhance pool features like sun shelves, steps, beach entries and poolscape elements like ponds and fountains. Its low voltage and minimal water flow requirements make them an ideal, energy-efficient addition to pools, fountains, ponds and more. It is fully compatible with the IntelliBrite 5g line of LED pool lights, optional Color Sync™ Controller for Pentair Color LED Pool Lights and the EasyTouch® or IntelliTouch® Automation Systems. Custom program and control light shows using an indoor control panel, wireless remote and the ScreenLogic® Interface using your smartphone, computer or mobile digital device.
Energy-efficient color LED lights with vibrant colors
Provides 5 brilliant fixed colors, 7 dazzling light shows
Designed for 2 in. – 10 in. of water depth
Plume height up to 24 in.
Low voltage operation of 12 VAC / 15W
Cord length available in 30 ft., 50 ft., 100 ft. or 150 ft.
Low flow requirements allow for multiple units per pool
Niche provides for flush mounting
The perfect complement to IntelliBrite® 5g LED Pool Lighting for dynamic and synchronized colored light shows